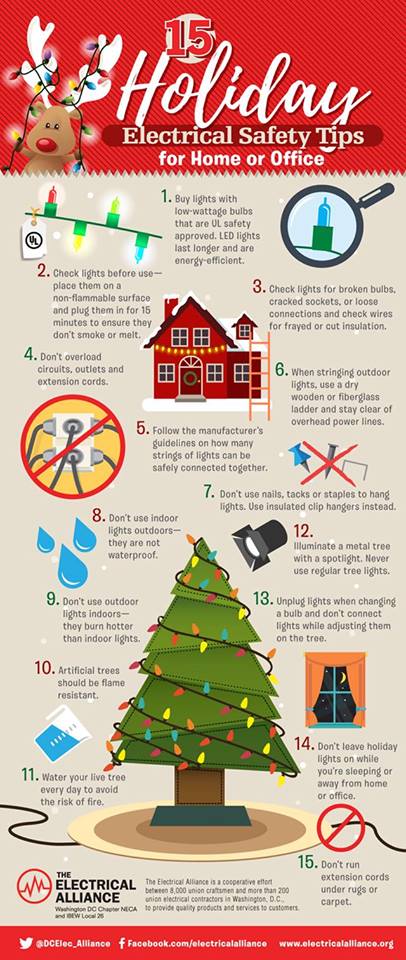 Buy light with low-wattage bulbs that are UL safety approved. LED lights last longer and are energy-efficient.
Check lists before use-place them on a non-flammable surface and plug them in for 15 minutes to ensure that they don't smoke or melt.
Check lights for broken bulbs, cracked sockets, or loose connections and check wires for frayed or cut installation.
Don't overload circuits, outlets, and extension cords.
Follow the manufacture's guidelines on how many strings of lights can be safely connected together.
When stringing outdoor lights, use a dry wooden or fiberglass ladder and stay clear or overhead power lines.
Don't use nails, tacks, or staples to hang lights. Use insulated clip hangers instead.
Don't use indoor lights outdoors-they are not waterproof.
Don't use outdoor lights indoors-they burn hotter.
Artificial trees should be flame resistant.
Water your live tree every day to avoid the risk of fire.
Illuminate a metal tree with a spotlight. Never use regular lights.
Unplug lights when changing a bulb and don't connect lights while adjusting them on the tree.
Don't leave holiday lights on while you're sleeping or away from home.
Don't run extension cords under rugs or carpets.